Journal Entry:
Mon Dec 17, 2007, 12:31 PM
Some follow-up about yesterday's journal!

Thank you SO MUCH to everyone for your kind words, your support and your help!
I couldn't reply to everyone of you, since obviously right now I've got this huge thing to deal with, but I read each and every comment and all of them were very appreciated and comforting!
A huge thanks to everyone who went to their local
[name removed]
to have a look around and who take photos.
TheNeonGryphon
,
CrimsonBandit
,
kafine
and
TheJasmineDragon
send me great pictures that should work as compelling evidence... thank you so much, guys!

So... while I was very much hoping this was just a false alarm, or a "vague similarity case"... well, no such luck - I think it's now fairly definite that someone stole my
Mascarade
picture and sold it to
[name removed]
.
From what I was reported by people who searched the stores, the shirt is available in a vast number of their stores, which probably means hundreds of shirts being sold. *sighs*
And now, avert your eyes, because this might hurt them... Here are the photos.
My original:
And the rip-off:
Wow!! Someone really knows how to use their MS Paint!!
But wait, there's better!
Think this is an eyeball...?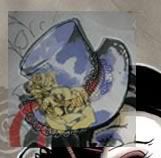 Congratulations! This person knows how to
trace
!!

I am SO not impressed.
Whoever did this "design" has really landed themselves into huge trouble.
I am getting some legal advice from a lawyer as soon as I can.
Listening to: Meds - Placebo
Drinking: Tea.... lots of tea!!!